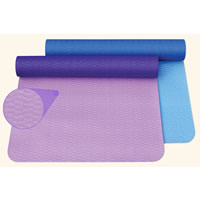 Yoga and Pilates EnviroMat
Wailana



The EnviroMat is made from a newly developed and patented Thermal Plastic Elastomer foam (TPE). Without the use of toxic materials in its production (no phthalate, toluene, or heavy metals), this mat contains no latex, PVC, chloride or rubber, so it is safe for your skin and the environment.
A soft ¼- inch thick, this mat has attractive rounded corners and is 72-inches long by 24-inches wide. In this extra thick mat, you have a choice of two reversible mat colors: iris/lilac or deep ocean/summer sky.
This mat features a closed cell construction that prevents absorption of any fluids, making it easy to keep clean. To wash it, use soap and water and dry off or hang to drip dry.
EnviroMat naturally provides excellent traction and is specially designed for non-slip performance. A lovely and subtle all-over patterned design is pressed into both sides, allowing for a good grip in any posture.
This mat needs no breaking in and lies flat easily. Store it flat, or roll it rather than folding and this mat will last you for years. When its time to finally get rid of it, its kind to the environment as its 100% biodegradable and reclyable.
Whether you are a yogi or do Pilates, or just need a pretty and soft spot to stretch or meditate, this mat is a lovely, portable, comfortable, and environmental destination.

You might also like...

Wailana Stretch and Strengthen Fusion Fitness Workout Eight exercises, each based on Pilates, Yoga and Resistance Training, target your abs, legs, arms, back, posture, balance, flexibility and joints. Read more...

Wailana Little Yogis Volume 1 An easy, fun, colorful and imaginative way to encourage kids to exercise using yoga postures themed to an animal or a simple story. Read more...