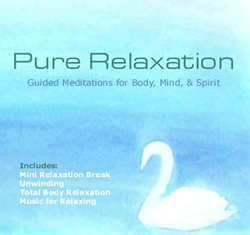 Pure Relaxation CD
Heart of Healing

Pure, sheer, absolute relaxation! I'm hooked! I love the total tranquility and peace of this CD… the voice, the music, the gentle pace. You're transported away from every feeling of tension and stress and you find yourself smiling as you float in the serenity of your own still space.
WOW! There is no way that you can listen to any part of this CD and not de-stress, loosen every tense muscle, feel relieved…and lighter.
Whether you take a break in your office at noon, or kick off your shoes at the end of your day, you will unwind and completely dissolve any tension. Reach for this CD whenever you want to spoil yourself and get away from it all.
Three different tracks give you the perfect, guided relaxation session that you need: the 8-minute mini-break, the 15-minute unwinding and the 22-minute total unwinding. When even words are too much, there is a soothing 30-minutes of just pure relaxing music alone.
Put on headphones in the park on a sunny day and listen to one of the guided relaxation meditations. Draw a hot bath and listen to the music. On a business trip, in a crowded plane or frazzled from kids, noise or traffic? Calm your soul with any of the tracks from this wonderfully soothing CD. This is for everyone…anytime that you want peace, tranquility and total, pure relaxation.

You might also like...

Heart of Healing Ease of Being CD Through guided meditation, it takes you through three gentle stages: Silence, and an emotional healing meditation called Flowing Freely. Read more...

Heart of Healing Everyday Energy Healing CD You will be guided in how to sense energy, use your hands for healing and how to give a chakra balancing. Read more...