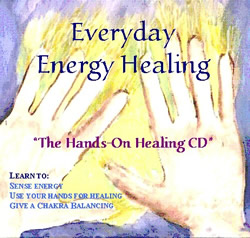 Everyday Energy Healing CD
Heart of Healing

The subtitle of this CD is 'The Hands-On Healing CD' and by listening to it you will be guided in how to sense energy, use your hands for healing and how to give a chakra balancing.
Mary, whose calming and soothing voice you primarily hear, has years and years of experience in guided meditations, Ayurveda, Lightbody work, Reiki, Healing Touch and Energy and Spiritual Healing; you are being gently led by an experienced guide.
The CD is in five parts: a short introduction, how to sense energy, preparing for a chakra balancing, a centering meditation and a step-by-step chakra balancing performed on a partner.
The whole CD takes just over one hour and each step of your way is guided by Mary's voice. Included in the case is a CD-sized booklet that folds out to reveal diagrams, hand positions and tips. The cover of the CD is a sketch of two hands over a pale yellow heart-shape.
My first impression? Friendly, soothing, simple, not rushed and made uncomplicated by the step-by-step guidance of Mary's voice.
For those who have wondered about energy and their ability to sense it and use it for healing, this CD is reassuring, not 'woo-woo'. Not at all 'mystical' or confusing, it becomes apparent that anyone can easily learn to sense and use their own energy and the energy around them.
My final impression? I have spoken to Mary and was impressed, read the testimonials of everyday people who tested this CD and were amazed at being able to learn energy healing with their hands…and I tried it myself on a partner … it was easy, uplifting and calming!
Give this interesting CD a try if you have ever wondered or thought about your energy, the energy all around you… and healing. I think you will be pleasantly surprised at the results that you get from this soothing and simple guided meditation to Everyday Energy Healing. We were.

You might also like...

Heart of Healing Ease of Being CD Through guided meditation, it takes you through three gentle stages: Silence, and an emotional healing meditation called Flowing Freely. Read more...

Heart of Healing Pure Relaxation CD Put on headphones in the park on a sunny day and listen to one of the guided relaxation meditations. Read more...