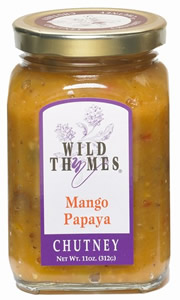 Do you know of a great product that you think we should review? Contact us and let us know!
Mango Papaya Chutney
Wild Thymes

Some mango chutneys are gooey and almost sticky with sugar, but this chutney is fresh and plumply fruity. Count the fruits in this amazing ingredient list: mangoes, apples, sugar, pineapple, oranges, onions, cider vinegar, garlic, ginger, papaya, raisins, jalapeno peppers, lemons, red bell peppers, coconut, spices and lime juice. Thick, but moist, you can see that this is decidedly different from most mango chutneys!
The chew is fruit that has been softened in vinegar, spices and gentle cooking. It has a slight crunch of onion or coconut, a delightful pop of some spice seeds, but mostly, it is softly chunky with loads of fruit.
Hardly hot, the spices are not so overpowering that the fruit flavors are lost. Rather than disappearing and becoming one overriding chutney flavor, you can distinctly taste fruit in each mouthful. Don't think that this is like a preserve though: this is spicy, piquant, complex and definitely a chutney - just not an ordinary one.
This would be perfect with the rich flavor of buckwheat noodles, and mixed into chicken dishes. Very tropical tasting, try this with grilled fish and be sure and add some to coconut milk for a sauce to pour over rice. Don't forget to dip coconut shrimp in this, and dab this on spring rolls for a change of pace. Our team also thinks this could be a lovely topping on lox on an onion bagel and we're tempted to put this slightly hot, spicy fruit on ice cream as a topping!
Absolutely and distinctly fruity and spicy, this is a chutney to be bold with! 100% natural, kosher, free of fat, gluten, sulfites and cholesterol and extremely low in calories, carbohydrates and salt, you can try it on peanut butter sandwiches without feeling like you are loading on the calories. Mix some with cream cheese and tuck it into a warm croissant…and you'll agree that this chutney is PureZing!

You might also like...

Wild Thymes Thai Chili Roasted Garlic Dipping Sauce It's not hard to reach for this versatile sauce, it is outstandingly flavorful and gives such excellent results: you'll be a culinary genius! Read more...

Wild Thymes Plum Currant Ginger Chutney This will not disappoint you in spiciness and complexity, but will delight you with its currant and plum base. Read more...