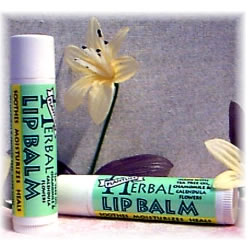 Herbal Lip Balm

Plantlife

Even though it's in a twist-top, lipstick style container, this .25-ounce lip balm contains no wax like those 'sticks' of old! Totally herbal and vegan, this lip balm is a real healer. The owner says that as great as it is to heal cracked lips with, its just as good dabbed on a cut or abrasion, and she even uses it to soften her cuticles with!
This sounds like a perfect little go-everywhere balm! Tuck it in the glove compartment, beach bag, briefcase and backpack. Put it beside your bed and have it handy in a drawer in your desk. This may say it's for lips, but our team found the same soothing uses for it as the owner.
Made with olive oil, soothing calendula and chamomile flowers, the essential oils are healing tea tree, eucalyptus, sweet orange and peppermint. The addition of vitamin E keeps it fresh and the aroma is green and clean smelling.
Although it's firm enough to be in a 'stick', the texture melts onto your lips in a creamy way. No, this is not the waxy lip balm of old. This is a healing balm that is rich and soft on your lips but that you will also want to have on hand to soothe some of life's little mishaps.

You might also like...

Perfect Organics Citrus Orange Shea Butter Lip Balm A hint of fresh orange peel, a melted butter experience on your lips, this is your new lip balm. Read more...

Kabana Skin Care Liplovers Lip Balm This balm gives you the feeling that it will last through a snowstorm, a snorkeling excursion and a high altitude climb. Read more...