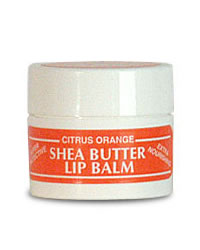 Citrus Orange Shea Butter Lip Balm

Perfect Organics

Good things come in small packages and the contents of this butter-like lip balm are all good. The .25-ounce container is packed with an almost solid mixture of wild grown shea butter, organic sweet almond oil, organic hazelnut oil, organic jojoba oil, organic orange essential oil and vitamin E.
Put your finger on it and it easily melts, allowing you to gently coat your lips with this lovely orange fragranced lip balm. It's sort of like someone beside you peeling an orange, and you being able to smell the oils from the rind. The fragrance is as soft as the mixture and the whole is silky, slick and soft on your lips.
If you like a hint of fresh orange peel, and prefer a melted butter experience on your lips rather than the consistency of a balm in a stick form, then this is your new lip balm. The container has a cheery orange label around it and on top…the better to find it in your purse. A lovely, clean experience for the eye, the nose and your lips…all in one small pot. Zingy!

You might also like...

Perfect Organics Mint Chocolate Shea Butter Melts into the skin, is not sticky or oily and leaves a slight sheen of moisture behind with the minty fresh and slightly chocolate fragrance. Read more...

Kabana Skin Care Liplovers Lip Balm This balm gives you the feeling that it will last through a snowstorm, a snorkeling excursion and a high altitude climb. Read more...