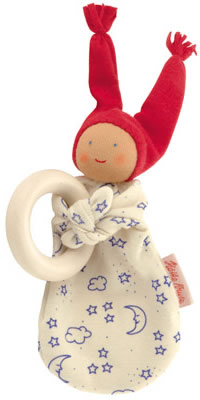 Kathe Kruse Organic Grabbing Gnome Moon and Stars
Oompa

What a wonderful idea! A 'grabbing' gnome! This is the teething, chewing, gumming, wrinkling, loving, cuddling, gurgling toy that your baby can easily grab and handle and your toddler will carry with them wherever they go.
The fabrics are super soft and completely organic with no pesticides, herbicides, synthetics or chemicals. Each piece of fabric uses natural colors without heavy metals and the designs are tiny moons, stars and clouds. The stuffing is toxin-free wool and the wooden ring is lightweight, silky soft and without toxins.
The head is a soft, wool-filled ball with a red cap with chunky fringed ends. The face is painted on with toxin-free colors. The body is a soft, organic cotton bag (not stuffed) with arms that are tied around the light wood ring. When your baby turns into a toddler and the wood ring is no longer needed for teething, simply unknot the arms of the doll and remove the ring. The total length of this sweet gnome is almost nine inches long and the weight is just a few ounces.
Wash this charming doll by hand in cold water and then fluff it dry on an air setting or hang on the line on a fresh day and it is ready again to be your child's favorite companion. To store or travel with this gnome, tuck it in its organic cotton bag and it will emerge fresh, with the cherubic smile on its face.
This is the ideal first toy/teething ring, tactile experience for a baby. Lightweight and completely toxin-free, your baby will easily grab and have fun with this sweet gnome. As your baby grows, be sure and check out the organic and toxin free rattles…each one more charming and colorful than the next.

You might also like...

Dancing Dingo Baby Face Moms will love this tough little 1-ounce push-up container that will toss into a diaper bag without spilling, oozing or leaking. Read more...

Seaside Naturals Baby Belongings All-Purpose Cleaner This is an inspired product that every mother should have within reach for the first five years…(maybe eighteen)…of her child's life. Read more...