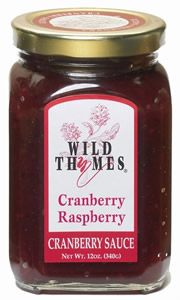 Do you know of a great product that you think we should review? Contact us and let us know!
Cranberry Raspberry Sauce
Wild Thymes

There are two incredibly exciting things to tell you about this sauce: it's not bitter or metallic tasting, and there are literally dozens of ways to use it!
First things first! This yummy sauce is in an 11-ounce glass jar so there is no metal taste like there is from cranberry sauce in a can. This makes such a difference in the overall smoothness of flavor and, along with the fact that the cranberries are not bitter, it's Pure delight to eat! Not too sweet, this recipe is a perfect balance of fresh cranberries, sugar, fresh raspberries, whole oranges and lemons. The texture is satisfyingly chewy with plump raspberries, bursting cranberries and the bittersweet flavor explosion of rinds. This is not your ordinary cranberry raspberry sauce!
The owners and creators have found ingenious and tempting ways for you to experience this fabulous sauce. How about in drinks? Which one would tempt you? Cranberry Lemonade, Two Berry Smoothie, Cranberry Mimosas, Summer Sangria or the Wild Thymes Cocktail? Be sure to click on the recipes for these beverages, as each one is unique and wonderful!
You must try this cranberry sauce in an incredible recipe for French Toast with Berry Sauce, Cranberry Raspberry Twists, as well as Cranberry Raspberry Scones. Both of these will convince you that plain French toast or scones are missing something: this sauce!
There are so many more recipes, but we wanted to show you that this is not just for turkey…it's also for chicken, meat, game, sandwiches and wraps…and even dessert, like Cranberry Raspberry Tart!
Too, too many ways to use this sauce! Be sure and get several jars as you want plenty to just eat from the spoon too! This product is all natural with no additives and has the Kosher Seal. It also has high-fives from everyone at PureZing!

You might also like...

Wild Thymes Original Cranberry Sauce Not too sweet, the full cranberry flavor is rich without a hint of bitterness, and the citrus is a high, clear note that is not too tart. Read more...

Wild Thymes Mango Papaya Chutney Hardly hot, the spices are not so overpowering that the fruit flavors are lost. You can distinctly taste fruit in each mouthful. Read more...