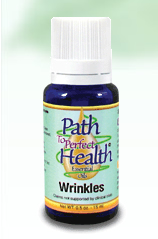 Wrinkles Essential Oil Blend

Path to Perfect Health

This is our kind of product! In one month's time you can actually see that your wrinkles have diminished, your skin is smoother and even scars are on the mend. Your skin feels and looks tighter and the quality of your skin is clearer. Now that's something to say about a small 15 ml bottle of essential oils, but it's pretty amaZing what this blend of concentrated, natural oils can accomplish!
These are the oils that are in this blend: Elemi, Carrot Seed oil, Tangerine, Lavender, Petitgrain, Palmarosa, Clary Sage, Rosewood, Ylang Ylang, Vetiver and Sandalwood. Our whole team loves the fresh, spicy, clean fragrance…as well as the healing and smoothing results.
Elemi heals wounds, protects the skin and stimulates the nerves. Carrot seed intensifies other oils qualities thus increasing the nutrients that are brought to the skin. Tangerine improves circulation and dissolves cellulite, while Lavender stimulates new cell growth, soothes skin inflammation, prevents scarring and is a detoxifier and an antibiotic/antiseptic. Petigrain tones and tightens tissue and helps correct acne. Palmarosa stimulates new cell growth, speeds healing and fights infection. Clary Sage relieves muscle stress while rosewood is soothing, promotes skin elasticity and helps the skin to rid itself of irritations. Ylang Ylang and Vetiver both increase circulation and Sandalwood supports nerves, circulation and removes negative programming in the cells.
This blend is so easy to use. Mix 1-3 drops of the blend with Miracle ll Lotion and apply to your face or body where there is sagging or wrinkles. Follow up by a light application of Miracle ll Gel to additionally tighten and tone your skin before applying your makeup.
Use this oil blend for a whole month and you will see the visible difference: your skin is smoother, fresher looking, and with diminished wrinkles! The outer layer of your skin cells totally shed and refresh themselves every 28 days. By using this healing blend during this time, your new skin cells are fed, soothed and supported ….and it shows in your face. This blend brings the nutrients and oxygen that healthy skin needs right to the outer layer of your skin cells and blood vessels which allow your skin to rejuvenate quickly. We noticed the results: it's Pure Zing!
Oh! Side benefits of this blend are a good night's sleep as well as having people ask what your delicious smelling perfume is!

You might also like...

Path to Perfect Health Stress Essential Oil Blend A blend of four natural essential oils: Vetiver, Orange, Ylang Ylang and Lavender. Each one singly has a soothing fragrance, but blended together it has soothing and de-stressing results. Read more...

Path to Perfect Health Alignment Cold & Flu Essential Oil Instead of popping those 24 hours pills and sniffing chemical sprays up your nose when you have a cold or flu, use this oil blend instead. Rather than masking symptoms, this blend literally helps your body to heal itself naturally. Read more...