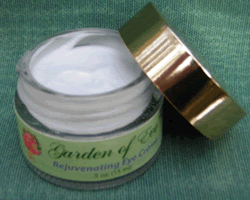 Rejuvenating Eye Crème

Garden of Eve Skincare

Have you ever wanted those little lines and dry spots around your eyes to go away, but all that happened was that they were dragged down by heavy eye creams? For those who want light but effective help, this eye formulation is the 'little dab that will do ya!'
This crème is light, light, light! It is crème but it is gossamer! How can this airy confection moisturize your delicate eye area? With light but effective organic oils and essential oils! The delightfully light ingredients are: distilled water, certified organic coconut, apricot, macadamia nut oil, Kukui nut oil, Olivem 1000, extract of certified orgaic rosemary leaf, selected organic and wild crafted essential oils and extracts of chamomile, sandalwood, myrrh and rosewood.
Essential oils have healing, soothing and moisturizing properties while organic the organic oils chosen for this formulation are rich moisturizers without heaviness. What a great combination. What a great feel around your eyes….and what great results! We also noted that it did not puff up anyone's eyes. Some eye creams try to plump up your wrinkles…and your eyes can look a little puffy as a result. This did not happen with this crème!
Man or woman, everyone on the Pure Zing team liked the feel and the results of this eye crème. No oily residue, no heavy, clogging feeling: just a moist, soft feel….and a diminution of dryness. Available in a .5-ounce screw-top jar, all you need is a dab. This cream is so light it spreads easily…and then soaks in without any greasy tell-tale remains.

You might also like...

Garden of Eve Skincare Facial Cleanse or Mask The ingredients are not harsh but impart moisture and cleansing qualities: a blend of Bentonite clays, organic Irish moss sea weed and oats. Read more...

Garden of Eve Skincare Wise Woman Toner No matter the season or location, your skin will love the feel of this refreshing and soothing mist. Read more...