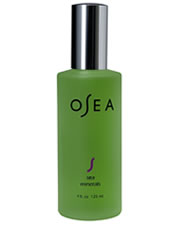 Osea Sea Minerals

Osea

This is a fascinating product: a pale, emerald green liquid called Sea Minerals is in a bottle that looks frosted by the ocean waves. The container is fitting, as the two main ingredients are Hawaiian seaweed extracts and Dead Sea crystals.
Known for its skin-enriching marine-based ingredients, the creator of this line gives you a liquid skin spritzer that restores mineral balance to wind, heat or sun-stressed skin. Whether your skin has been exposed to the elements from being in a boat, or riding a motorcycle, this soothing spray reduces any redness or tightness caused by the elements. Know how humidity can play havoc with your makeup? Use this spray to set makeup and foundation and keep powder from looking too dry on your face.
This spray is for all skin types. Everyone skin's can benefit from the 100% natural ingredients of Hawaiian seaweed extracts, Dead Sea crystals, algae extract, copper and manganese ferments, aloe vera juice, glycerin, grapefruit seed extract, chlorophyll, honey and vitamin C. With the pump of the top, you get the benefits of their hydration, without messy creams or lotions.
Available in a 6-ounce home or office size, you will also want the 1-ounce travel size for your boat, car, gym bag, backpack and purse. For real refreshment, put this soothing and hydrating spritzer in the refrigerator for a skin cooling experience when winter heated homes and offices or sun drenched beaches and city streets have robbed your skin of moisture. Aaaaah!