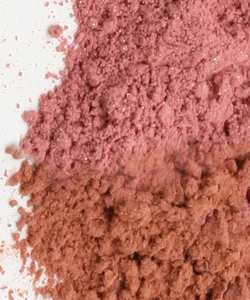 Blush x 3
Ferro Cosmetics

What is 'Blush x 3'? It is a finely milled mineral powder that can be used as blush, eyeshadow and even lip color. That makes this mineral idea three times more powerful!
While the four colors above are indicative of the range of colors available, there are actually ten colors to choose from. We love not only the results that we got from this great product, but also the names of some of the multi-tasking colors: Bashful Blush, Plum Bumm Blush, Burnt Raisin and Naiveté Blush among others.
It really is amaZing that one color can look so different on three different parts of the same face. A hint on the eyelid, a bolder blush on the cheek, and a stain on the lips all take on their own character, while still being part of the whole. This not only makes applying your makeup a snap, it gives you a pulled together, subtle look without anyone being aware that it is the same product in three places!
The ingredients are kaolin clay, zinc oxide, mica, magnesium stearate, serecite, ronosphere, micronized titanium dioxide, iron oxides, and may contain boron nitrate. The feel is super fine and the minerals are 100% pure and without additives that can make your eyes itch or your skin break out. Even our team members with the most sensitive skin had no problems with this product…and loved the smooth, beautiful results.
This product is available in a trial size. Our recommendation is that you get several of the colors and play around with them. When you know for sure which one, two or three colors look like they were made for you, then move up to the larger size. Our tip? Keep the smaller containers for travel or for your handbag or backpack. Just refill them from your larger size.
Great idea: clean, pure mineral colors that look as beautiful on your cheeks as they do on your eyelids or lips.

You might also like...

Ferro Cosmetics Crystal Mineral Veil No matter which veil our various team members applied, we all commented on the lightness, the subtlety and the 'flawless finish' that was so easily achieved in just seconds. Read more...

Ferro Cosmetics Ultimate Foundation
No oils to clog, no irritants or fillers, this pure mineral foundation is so light and pure that your skin breathes and heals. Read more...