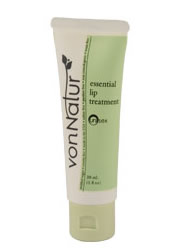 Essential Lip Treatment

Von Natur

All of our eyebrows went up when this product was passed around and we applied it to our lips. Essential Lip Treatment is NOT a lip balm, but a Zingy lip plumper and enhancer. Once the cinnamon kicked in, we knew we were testing a different product.
This is one ounce of 85% organic ingredients that as the supplier says, 'redefines the soft tissue around your lips.' Oh mamma…it sure does! If you want pouty lips without a lot of chemicals, massage a tiny bit of this in your lips and then wait for the Zing!
The men on the team declined, but the women on the team felt it in their lips as soon as they applied it. Almost immediately, lips were 'defined' and they stayed that way a long, long time. The supplier says that if it gets too hot, to lick your lips. We did!
The ingredients are organic aloe juice, organic olive oil, organic rooibos tea extract, DMAE, emulsifying wax NF, organic jojoba oil, olive butter, palm stearic acid, MSM, essential oils*, hyaluronic acid, vitamin E, vitamin C ester, alpha lipoic acid, xanthan gum, neem oil, rosemary oleoresin. *cinnamon USP, anise, ginger, lemon, heliochrysum and basil.
We liked that you could wipe or rinse it off and the effect cooled down. The definition stopped where it was too. So, if you want major definition, go for it and slather it on! If you want just the tiniest bit of help, just dab a tiny bit on, and wipe off the rest when your pout is perked to your satisfaction!
This is THE Essential Lip Treatment if you are looking for a Pure pout. Wow!

You might also like...

Von Natur Under Eye Nourishing Cream This nourishing cream is light as air, smells divine and is filled with yummy and rich ingredients. Read more...

Von Natur Grapefruit Whipped Butter Not too tart, this smells like grapefruit that has sugar sprinkled on top of it…and yet the smell is exceptionally fresh and green. Read more...