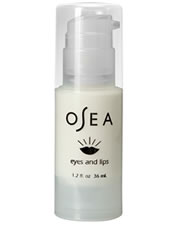 Osea Eyes & Lips

Osea

PureZing thinks that this product is terrific! One container with a solution for two problem areas: eyes and lips. I don't know about the rest of you, but our team admitted to using rich eye moisturizers on their parched lips…as well as dabbing lip creams and balms at the corner of their eyes.
It stands to reason that if your lips are dry, so is the delicate skin around your eyes…. and visa versa. Why have the expense of two products…and clutter countertops or drawers with twice the containers, when just one terrific product will do?
Because the creator of this line was a busy, single mother, she didn't have time for complicated beauty regimes, false promises or hype. She created a line based on the best of the best ingredients, and in this product, gave us one that does double duty.
100% natural, marine-based, no fillers, chemicals or toxins, this pump top 1.2-ounce container has rich goodies in it: red algae gel extract, vegetable glycerides, squalane, glycerin, olive extract, DPHP, macadamia nut oil, avocado oil, algae extract, copper, manganese and zinc extracts, calendula extract, cucumber extract, vitamin E, grapefruit seed extract, plant amino acids, vitamin A and D and glycine.
This product is rich. This product is thick. This product feels really good on both your eyes and lips. Moist and plump are the words that came to everyone's mind when they used this product and felt the results. After application, when you touch the corners of your eyes, they feel moist and supple. Rub you lips together and they glide and feel smooth. This is not a product that soaks in immediately but rather, gives you the extra moisturizing that these delicate and too often dry areas need, without any heavy oiliness. Voila! There is now a rich and simple solution for both dry and needy areas of the same face.
The container is small enough to take with you. The look is tech enough for men to feel comfortable using it. The results are PureZing! Try this great double duty product. You won't be disappointed.

You might also like...

Osea Atmospheric Protection Leaves a protective film on your skin that acts like a barrier to the drying or toxic elements of weather or pollution. Read more...

Osea Sea Cleansing Milk This is a calming facial cleanser filled with marine-based and high-tech extractions known for hydrating and soothing delicate skin. Read more...